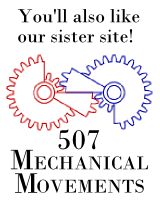 Site History
November 23, 2011
Animated Engines has a redesigned layout which, I hope, will make it easier than ever to find what you're looking for. I've also added an RSS feed along with Facebook and Twitter accounts, to make it easier to keep up with future developments. See the Contact page for more.
April 16, 2009
Corrected a technical mistake on the Low Temperature Differential Stirling engine page.
April 10, 2009
The Low Temperature Differential Stirling engine is new to this release. I also made a small change to the control panel code to fix an issue with the Gnome illustration.
April 6, 2009
The illustrations now feature control panels!
For years, visitors have requested the ability to adjust the animation speed, pause the motion, and examine the frames individually. The new control panel enables you to do just that.
I'm still testing and refining this system, and would love to hear your feedback. Since it may not be perfect yet, I've created a link on the home page to switch back to the original animated GIF images.
March 22, 2009
This release includes the Diesel engine.
I also added advertising for the first time.
I am very concerned about displaying inappropriate material on this site, since so many of my visitors are young students. I am unable to screen every advertisement, but I can block particular advertisers if necessary.
If any of my advertisers displays material that you find rude or offensive, please send me an email including a detailed description of the ad. If you're able to capture an image of the offending ad, that would be most helpful. To do this in Microsoft Windows, press ALT+PrintScreen in the web browser; then paste the image in your email program, usually by pressing CTRL+V.
Februrary 10, 2009
Animated Engines now has its own domain! Please update your shortcuts and links. This site was formerly located at Keveney.com.
This release also includes a long-overdue facelift, using more up-to-date Internet publishing techniques. You'll need a fairly current web browser for best results. I test with Internet Explorer and Mozilla Firefox.
I've tried to improve the layout and simplify navigation while keeping the uncluttered look and straightforward explanations that my visitors have commented so favorably on. Let me know how you like it!
I've also edited the explanations here and there to incorporate visitor feedback and to supplement with new information I've come across since the pages were last edited.
May 23, 2001
Added Gnome, Jet propulsion, Newcomen, and How To pages. Also added mailing list support.
October 1, 2000
Minor update to Atkinson page.
August 2000
The Animated engine pages are first published on Keveney.com.