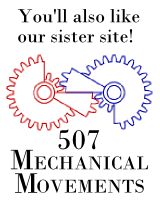 Welcome to Animated Engines!
Here you'll find animated illustrations that explain the inner workings of a variety of steam, Stirling, and internal combustion engines.
Control Panels
With most modern web browsers, you'll see a simple control panel below each animation. On certain browsers/devices, the animation cannot be controlled.
More Tips
As always, I would love to hear your comments about this site. Are there any other engines you'd like to see? Let me know! (I already have to-do list) Also, please contact me if you feel I have made any errors or omissions.
I hope you enjoy visiting my engine pages as much as I have enjoyed creating them.
- Matt Keveney
Email: matt@keveney.com