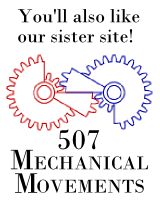 Keep in touch with Animated Engines
If you'd like to keep up with the latest changes on Animated Engines, there are several ways to do so:
Follow Animated Engines on Twitter
Become a friend of Animated Engines on Facebook
Subscribe to the Animated Engines

RSS

Feed
You may also email the webmaster: matt@keveney.com. I get lots of email, so please be patient. Sometimes I mistakenly discard legitimate email while sifting through my daily pile of spam, so if I don't respond after a few days, please try again.
If you'd like to know more about me, visit my personal home page.
---
What happened to the mailing list?
Earlier versions of this site used a third-party mailing list service to notify subscribers of changes to the site. Interest in this method of notification has declined, and I am no longer accepting new mailing list subscribers. Also, the capabilities of the service are somewhat limited. I am unable to determine which email addresses have become invalid, how many notifications were successfully sent, etc.
Nonetheless, I'm very grateful to the operators of Notifylist.com for the many years of free service they provided.
I will still use the list to notify existing subscribers for the time being, but I encourage you to consider one of the new services listed above.
- Matt Keveney